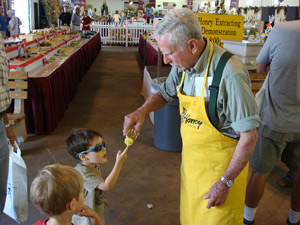 Volunteer at the State Fair!
Talk bees and sell honey!
MSBA members are invited to staff the honey sales, observation hive and honey displays on Wednesday August 29, 2012 at the Maryland State Fair!
In return, MSBA will receive a percentage of the total sales for that day and volunteers get a free pass and free parking. It is a great opportunity to meet people, talk the them about bees and see the Maryland State Fair.
The honey consignments are handled by Jerry Fischer. Contact Jerry before 1 August if you want to consign any of your honey products for sale at the fair.
There are three shifts and each shift requires six volunteers.
Shift #1 12 noon to 4PM
Shift #2 4PM to 7PM
Shift #3 7PM to 10 PM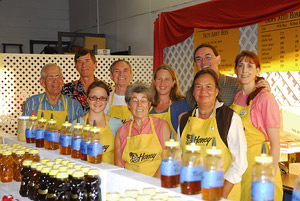 Please contact me with your preferences by July 31.
This effort will help support beekeepers statewide and I am counting on your support.
We have also been invited to provide an organizational display (table is 8 ft by 3 ft). There are only two displays, and premiums are $100 and $85. Therefore, reasonable expenses less than $85 should be covered by MSBA.
We need a volunteer to lead this effort and others to help out.
Wayne Esaias
wesaias@verizon.net
cell 301-646-3025