MSBA Meetings are Free and the Public is Welcome
The MSBA holds two types of meetings, board meetings for elected officers which members are welcome to attend and contribute comments, and general membership meetings featuring presentations by leading beekeepers, scientists, educators, and leaders in the field.
We hold general meetings on Saturdays in February, June, and November of each year. MSBA meetings last a full day, include nationally-known and local speakers, and generally start with refreshments at 8:30 AM and last until 4 PM. Board meetings occur one month in advance of general meetings, and are scheduled for two hours.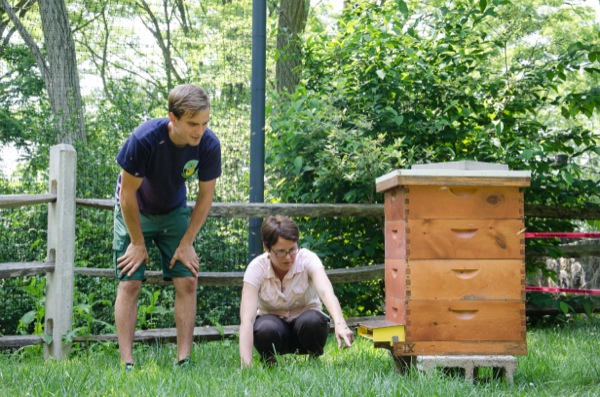 MSBA's first meeting of 2016 will take place February 13, 2016 at the Howard County Fairgrounds, Farigrounds Road, West Friendship, Maryland. We are in the Dining Hall: from Fairgrounds Road take the second entrance, second building on the left. If asked, refer to beekeeper meeting.
In our first keynote of the year, MSBA is honored to welcome Dr. Deborah Delaney, assistant professor of entomology and wildlife ecology in the College of Agriculture and Natural Resources of the University of Delaware. Dr. Delaney is an expert in honey bee genetics, the evolutionary biology of honey bees, pollination ecology, and the world of feral bees. She has used her deep background in genetics, the history of beekeeping in North America, and work in Dr. David Tarpy's lab to develop a unique understanding of survivor bees! Recent research projects look at native and bumble bees as well. Dr, Delaney continues to publish with Dr. Tarpy and Dr. Tom Seeley of Cornell. In addition, Dr. Delaney is a 2015 recipent of UD's Excellence in Undergraduate Academic Advising Award.
Vendors Please Note:
The February meeting is MSBA's largest gathering of the year! Should you wish to participate or reserve space, please contact MSBA@mdbeekeepers.org no later than February 1, 2016 with your request. Space is extremely limited and we will assign tables first come, first served. All vendors are asked to provide a door prize or similar donation for auction/raffle in order to support this meeting.
Past Meetings (clicking on link will automatically download files):