FULL! "Beginning Top Bar Hive Beekeeping" with Dr. Wyatt Mangum April 14, 2012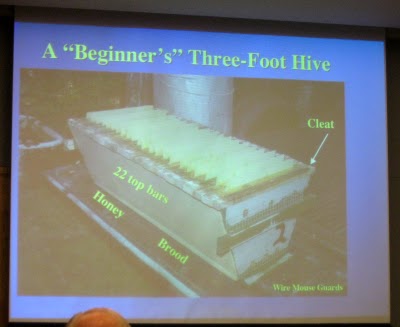 WE ARE NO LONGER ACCEPTING REGISTRATIONS FOR THIS CLASS
The MSBA is honored to be able to offer a day-long Introduction to Top Bar Hive Beekeeping with Dr. Wyatt Mangum on April 14 from 8:30 AM to 3:00 PM. The seminar will cost $35 for MSBA members and $45 for non-members in order to cover speaker and room costs. We will be limited to 45 students, with priority given to current MSBA members.
To update student info, please download and return the Registration Form at http://www.mdbeekeepers.org/downloads/MSBA_TBH2012_registration.pdf 
We are able to offer this class due to the assistance of our VA Second Vice President, Mrs. Pat Haskell of the Beekeepers Association of Northern Virginia.
The day is designed to prepare would-bee TBH beginners to manage hives in advance of installing a package into their new gear.
Location:
University of Baltimore
Thumel Business Center, Room 219,
11 W. Mt. Royal Avenue,
Baltimore, Md. 21201 
This location is accessible by public transport/Amtrak, parking at nearby 
garages, directions at http://www.ubalt.edu/about-ub/directions/index.cfm Students should consider bringing a lunch in order to maximize the available time. If you use the Fitzgerald Garage, we can provide "Chaser" discount coupons to reduce the parking fee to $7.
In recent years, many new beekeepers have signaled either curiosity towards or a strong preference in the direction of Top Bar Hive beekeeping. While the MSBA recognizes that most of our members keep bees in Langstroth gear, a sizable number of us are interested in other options that might help promote bee health, such as Warre or Perone "automatic" hives. As a beekeeping community, it is important to reach out to all practitioners to be sure that they have access to the best information and tools for managing healthy colonies, and to participate in shared group priorities like maintaining the right to keep bees, identifying potential health and management threats early, and communicating freely about new developments.
Should interest continue, we will try to work with Dr. Mangum to schedule a Fall and Winter Management follow up class later in the year. Last Fall, several MD beekeepers showed interest in such a class, but this Spring session is a prerequisite.