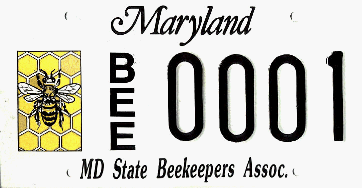 The Maryland State Beekeepers Association has its own license plate!
Thanks to Baltimore beekeeper Bob Crouse, who spearheaded the effort, we have this beautiful license plate that pays tribute to our favorite insect, the honey bee.
The artwork, chosen by vote of the members at the MSBA 1999 Winter meeting, is the creation of Adele Morris, artist, beekeeper, and former MSBA Vice-President for Prince George's County. If you apply for the license, you get to retain it.
To be eligible to apply for the plate, you must be a member of MSBA.
Non-members can join MSBA for $10 for one year or $200 for life using PayPal (which accepts credit cards), and by completing this application form, which you can then email or send to the address below.
---
Become an MSBA Member (Annual or Life)
---
MSBA License Plate Processing Fee
Once you are already a member, to apply for the plate send your contact information and $15 to the address below or complete your payment online. Please be aware, there is a $.43 processing fee for online payments to cover handling.
---
You will then receive a signed MVA application form certifying MSBA membership in the mail. Please complete this form and forward on to MVA with their fee (currently $25).
For more information contact:
Bob Crouse, Treasurer
1606 Dogwood Lane,
Bel Air, MD 21015-2502
(410) 638-0105
rlcrouse@qis.net