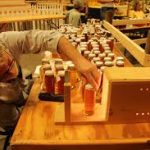 TUITION: $50 and a current MSBA membership
PREREQUISITE: None
DATE: Saturday, May 02, 2020  POSTPONED
TIME: 8:30AM - 4:30 PM  (8:30 Coffee & snacks, 9:00 Class)
LOCATION: University of Maryland / Plant Sciences Building  /  Room 1250  / The parking garage address is 200 Regents Drive, College Park, MD 20742  (Important parking info at bottom of this page)
CLASS SIZE: Limited to the first 35 members who enroll.
TEXT BOOK: (INCLUDED!) A Handbook for Honey Judges and Beekeepers Exhibiting Hive Products, by James Thompson
DESCRIPTION: This class will cover all of the basics of honey show judging.   It is ideal for everyone wanting to improve their honey show entries, and for people pursuing judging certification - although taking this class will not certify you as a Maryland Judge.
TEACHERS INCLUDE:
Cybil Preston, Maryland certified Honey Show Judges, Maryland State Apiary Inspector, owner Cybbees
David Morris, Maryland certified Honey Show Judges
Bill McGiffin, Maryland certified Honey Show Judges
Bart Smith, Maryland certified Honey Show Judges
Jim Fraser, Maryland certified Honey Show Judges Owner, Maryland Honey Company and former MSBA president
TOPICS INCLUDE
Judging philosophy
All forms of honey including liquid, comb, creamed, cut, chunk, frames and sections
Beeswax
Candles
Photos,
Arts and crafts
Gift baskets
Using refractometers (hands on)
Using polariscopes (hands on)
ADDITIONAL NOTES
Enrollment fees are non-refundable
Light snacks will be provided
Bringing your own lunch is recommended but the Stamp Student Union is a short walk with fast food options LINK
If UMD is closed due to weather, the class will be postponed.
If UMD is delayed for 2 hours, we will start ONE HOUR later, at 10 am
Check your email for scheduling and other announcements
To help with carpooling, All enrolled students, when logged in, will see a roster of fellow students at the bottom of this page.

---
ENROLLMENT
PLEASE LOGIN AND YOU WILL SEE THE ENROLLMENT FORM.
If you are not currently a member, please join or renew first.
IMPORTANT PARKING INFO:
Please park in the Regents Drive parking garage,200 Regents Drive, College Park, MD 20742
Please DO NOT park in the following spaces:

Any spaces with signage such as  Electric vehicle permit and Carpool permit
Do not park on the top level. The top level is all metered spaces. Even though permit parking enforcement is lifted you must still pay for these spaces.
Unmarked spaces. Vehicles not parked in designated spaces will be ticketed or towed

If you have a high clearance vehicle that cannot be parked in a garage, please contact parking services at 301- 314-3687 to find alternative spaces. Ask them for the closest parking to the Plant Science Building.
If you have any questions about parking, please contact Mark Dykes at mdykes@umd.edu or ph. 301-458-0640