"I'm a Maryland Beekeeper!" T-Shirts
Long and Short Sleeves Now Available
MSBA is offering a limited run of 100% cotton t-shirts in adult sizes S-M-L-XL-2X-3X-4X.
But you have options! You can select short- or long-sleeved t-shirts, and you can choose whether to have them shipped to you, or picked up at an MSBA event.
The short sleeved shirts still cost $15 plus $4 shipping per shirt, long sleeved shirts cost $20 plus $4 shipping.
Profits from t-shirt sales, if any, go to MSBA programs and activities.
You can order either by PayPal, Credit Card, or Check.
To Pay by Check:
Please make checks payable to 'MSBA' and send them, along with your desired size, mailing address, and telephone number or email address, to: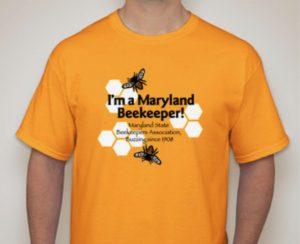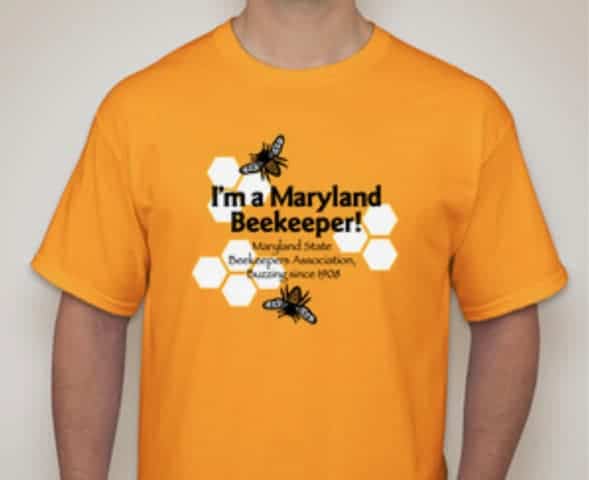 Toni Burnham, Secretary
MSBA
318 12th Street NE
Washington, DC 20002
beeline@mdbeekeepers.org
To Pay Online by PayPal or Credit Card:
Select which shirt you would like, and whether you would like it shipped to you.
Select your desired size
Click 'Add to Cart'
If you want more than one size, repeat these steps
Click on the new PayPal tab at the top of your browser (even for Credit Card purchases) 
Review your order, change any quantities
To pay with Credit Card, Click on the GRAY "Check Out" button that looks like this: 
To pay with a PayPal account, Click on the YELLOW "PayPal Check Out" button that looks like this: 
Please provide your Zip Code and select "calculate" during the checkout process.  We can't ship without it and will have to refund your purchase price (minus 3% processing).