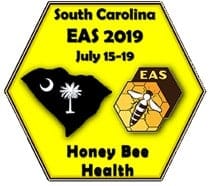 UPCOMING LOCAL AND REGIONAL EVENTS
Maryland State Beekeepers Association Spring Meeting, June 15, 2019, 8:00 AM to 4:00 PM, mUMD/College Park. See meeting page!
6th Annual Mid Atlantic Organic Honeybee Conference, July 20, Sandston, VA.
WV Beekeepers Association Fall Conference, August 23-24, Fairmont, WV.
UPCOMING NATIONAL AND INTERNATIONAL EVENTS
Pollinator Partnership Pollinator Week, June 17-23, online guide to events nationwide.
Heartland Apicultural Society Conference, July 8-10, Bowling Green, Kentucky. Zach Huang, Clarence Collison, Tammy Horne, Jim Tew, many others.
Eastern Apiculture Society Conference and Short Course, Greenville, South Carolina July 15-19. Jay Evans, Jennifer Berry, Landi Simone, Kirsten Traynor, Steve Repasky, many more.
46th  APIMONDIA Congress, Montréal, Canada, September 8-12.
2020 ABF Conference & Expo, January 8-11, 2020, Schaumburg, Illinois.
Treatment-Free Beekeeping Conference, 3/27-29, 2020. Oracle, AZ.