The UMD Bee Squad has created a series of online webinars for beekeepers, taking the place of the planned in-person events and classes planned for the Summer of 2020. The Bee Squad offered several sessions, free of charge, this Spring and is in the process of planning a new series.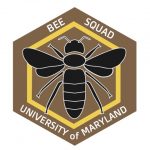 On April 22, the Bee Squad offered a Zoom Session on "Online Resources for Beekeepers" that you can now watch online.
The session from Nathalie Steinhauer, "Survey Says: National Colony Loss & Management Survey and YOU" from April 17 is also available for viewing.
The Bee Squad hosted Dr. Meghan Milbrath on April 15, and you can see recordings of her lectures on the topics of "Why Did My Honey Bees Die," "Understanding Varroa Risk," and "Making a Plan for the Varroa Mite" at her site, https://www.keepbeesalive.org.
Online One-On-One Mentoring is also now available for an hourly charge.
The Bee Squad's Colony Management Services activities continue, also, with options for both families and businesses.
Mark Dykes of the UMD Bee Squad will be speaking at the June 13th Spring 2020 MSBA meeting with information on more educational services and resources, so stay tuned!