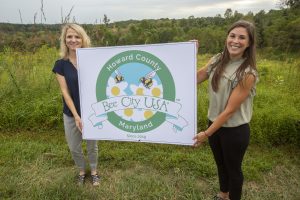 On September 6, 2019, Howard County became one of the first counties in North America to be named a "Bee City," joining a coalition of local governments committed to reducing pesticide use and creating sustainable habitats for pollinators. Other local Bee Cities include Annapolis, Salisbury, Washington, DC, and Arlington, VA. Maryland also has several "Bee Campuses" at Washington College in Chestertown and four campuses of the College of Southern Maryland.
The "Bee City" and "Bee Campus" initiatives are programs of the Xerces Society. Bee City USA fosters ongoing dialogue in urban areas to raise awareness of the role pollinators play in our communities and what each of us can do to provide them with healthy habitat.
"One in three bites of food we eat is the result of insect pollination. They are critical to our health and our entire ecosystem. Tragically, pollinators are in decline due to habitat loss, climate change, and the impacts of widespread pesticide use. We cannot wait for the rest of the world to recognize this crisis, we must innovate and be the model of leadership we want others to follow," said Howard County Executive CalvinBall. "Our commitment to protect pollinators will align directly with our long-term work to combat climate change and build a safe, livable future for Howard County."
"This is a significant step toward pollinator protection and pesticide use reduction," said Howard County Council Chair Christiana Mercer Rigby. "At a time when global bee populations are being decimated by climate change and increased pesticide use, these protections are more important than ever. I commend the County and the community partners that have worked on this initiative."
"We could not be luckier as environmentalists, and in Howard County in general, to have a County Executive who has this much vision and this much drive to do this much good," said Howard County Office of Community Sustainability Director Joshua Feldmark.
Howard County completed an affiliation process which included an application, the designation of a local government department as coordinator, the adoption of a local resolution, and a sliding fee which is based on the local population size.
Affiliate communities receive support and other benefits in pursuing these goals: they are active participants in a national movement committed to pollinator conservation supported by conference calls and webinars to promote sharing and collaboration among affiliates. Becoming an affiliate institutionalizes the local government and community's commitment to pollinator conservation and provides support for widespread collaboration to establish and maintain healthy pollinator habitat on public and private land. Being a Bee City USA affiliate also provides accountability for achieving pollinator conservation results each year, to be shared with one another and the public through annual reporting.
Bee City USA disseminates information regarding funding opportunities, pollinator research and habitat enhancement through email, e-newsletters, its website and its Facebook page. Bee City USA shares resources for program promotion – press release templates, brochure templates, T-shirt designs, bee decals, pollinator garden signs, etc.
But the benefits are concrete: Bee City program help ensure the survival of vital animal species crucial to our planet's complex food web; raise community awareness of how our food grows and improve local food production through expanded pollination; improve local plant nursery markets by increasing demand for native, pollinator friendly plants; and mbilize community to remove non-native invasive plants to make way for locally native plants.