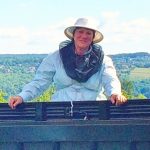 Maryland beekeepers have known for a while of our great fortune to have premier research and educational institutions and extension in our state. Luckily, The Eastern Apicultural Association has recognized this excellence as well, presenting Karen Rennich, the founding Executive Director of the BeeInformed Partnership with the The Roger A. Morse Outstanding Teaching/Extension Service/Regulatory Award. The Morse Award is supported by Anita Weiss Foundation, includes a $500 premium, is given annually to recognize an individual in teaching/extension and/or regulatory activity in the field of apiculture. This award was founded in 1999 as a memorial to Dr. Roger Morse of Cornell University, who pioneered today's Master Beekeeper Program. Dr. Morse was also an illustrious researcher, author and educator, held in great esteem by generations of scientists and citizen beekeepers.
Karen joined the beekeeping world in 2009 after an earlier career in ocean engineering at the Johns Hopkins Applied Physics Laboratory, and since 2010 has been instrumental in the creation and leadership of the BeeInformed Partnership, a non profit headquartered at the University of Maryland. She recently stepped down as Executive Director and now is excited to be more involved in many of the research and extension projects at the UMD Honey Bee Research Lab. She acknowledges that the best part of creating The Bee Informed Partnership was the development of the team and getting to work with so many talented and inspirational beekeepers nationwide.
As Karen herself describes BeeInformed and her work there, "The main idea ...is to get information collected from beekeepers back to beekeepers quickly so they can make more informed decisions. We collect information using online surveys and field collected information from tech teams." After collection, she says, "we summarize and analyze the data using epidemiological methods and return the data back to beekeepers quickly. Our ultimate goal is that beekeepers, using this information, will reduce the number of colonies they lose."
This is the heart and soul of education and extension work, a role which Karen has performed with grace, good humor, and insight for the past ten years.
There are three major EAS awards each year. In addition to the Morse Award, the Divelbiss Award was established in 1988, as recognition of the importance of public outreach. This year, the Divelbiss went to Maryland's own Dr. Barry Thompson! The James I. Hambleton Memorial Award for research excellence in apiculture went to Cameron Jack of the University of Florida. If the Hambletonian Award celebrates our quest to better understand the miraculous honey bee, the Morse Award encourages those who help us to build our skills and understanding as beekeepers. It is a crucial link from the lab to the apiary, and we are so very fortunate to have this marvelous practitioner among us!