CALENDAR for BEEKEEPERS
Always at the Right Place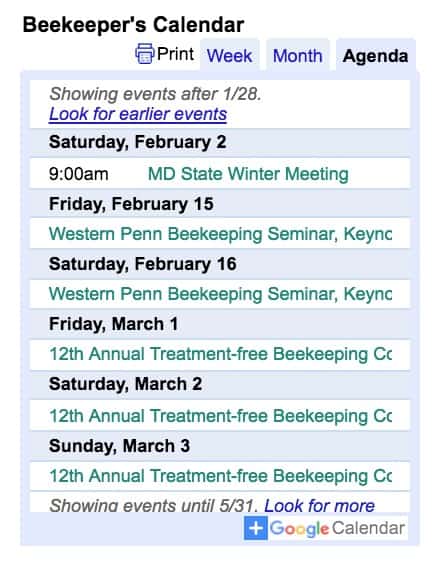 MSBA's website has added an interactive CALENDAR with several features you may find useful. A condensed version of the calendar appears in the right column of the MSBA homepage and on several other pages. No matter when you check it, the list always starts with the very next upcoming event. You can scroll to see past events, or additional events far in the future.
See Details, Map, and Directions
Click a listing to get more details, like a summary of the event, the address of the event, or URL of the event's sponsor. If there is an address, you can click to see that address on a map, and then click for Google's directions to that address.
Change the View or Print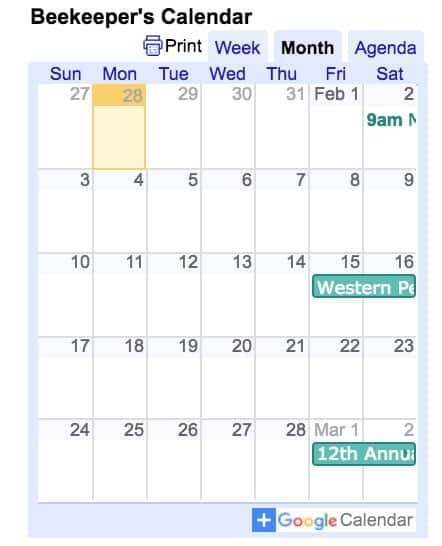 The events automatically appear as a LIST of events called an AGENDA VIEW. If you would like to see how the events look on a wall-style calendar, click the MONTH tab in the upper right corner of the agenda. You can also print calendar events by clicking the PRINT tab, also in the upper right corner.
Add to Your Own Calendar - or even Sync it
If your personal or work calendar is a Google Calendar, or uses iCal, you can you can click to add that event to your own calendar where you can add reminders or notifications. The option to add a specific event to your calendar is at the bottom of that event's detail page. You can also add the entire calendar to you by clicking the google icon at the bottom of the list of events. When MSBA changes details of an event, your personal calendar is also updated. iCal users, here is the link to add MSBA's calendar to your non-google calendar: https://calendar.google.com/calendar/ical/mdbeekeeper%40gmail.com/public/basic.ics
Suggest Events for The Calendar
If you would like to suggest events for addition to the MSBA calendar, there is a link in our website's HELP section, or you can click HERE. We request that you 1) only submit suggestions with complete details, including a link to the event's webpage, 2) first ensure the event is not already listed in our calendar. MSBA cannot accept event suggestions via email, only via the link above.
---
SHARE AND PRINT WEBPAGES

New! In the bottom left corner of our webpages are ICONS to make sharing and printing webpages easy. Click the envelope to create an email with the webpage's url already inserted. There are icons to share on Facebook, Google+, and Twitter. To print, click the orange icon of a printer. You can print the whole page, or click options to not print various sections of the page. You can print to paper or to .pdf